Top 5 Features in the Free SharePoint Project Management Template
These days, it's all about collaborative project management.  It's about working better and more efficiently with your team to move projects forward.
But managing a project isn't easy. That's why we have created the free SharePoint Project Management Template to help you keep your projects on track.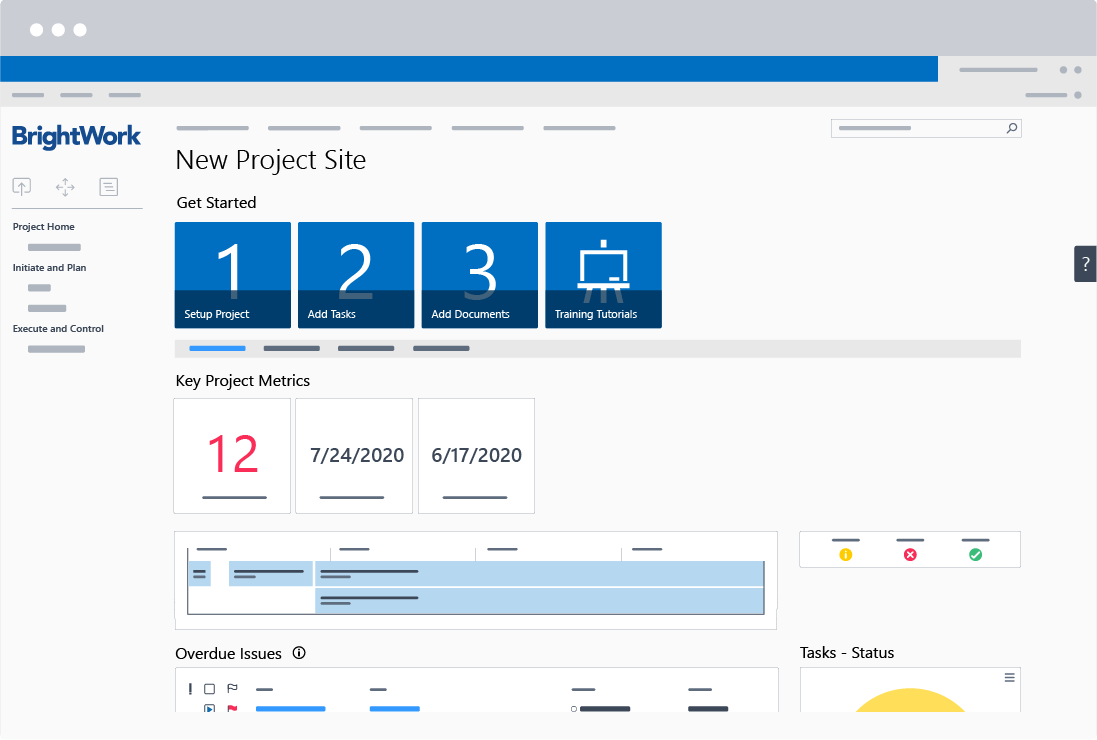 This template is pre-configured for project management, is designed with visual and intuitive project reports, and brings all your project information together in one central project site.
Keep reading to learn more about five key features in the SharePoint project management template, along with a step-by-step video on using the template.
5 Key Features in the Free SharePoint Project Management Template
1. Getting Started Links
At the very top of the project homepage, you will see a new set of blue 'Getting Started' tiles.  These tiles (Promoted Links as they are called in the SharePoint lexicon) give project managers a clear set of activities to set up the project site.
Working with customers over the years, we've found that many people are not full-time project managers. The idea with 'Getting Started' is to give people a simple yet structured approach to help them get up and running with the project.
The tiles follow a logical sequence you'd expect when initiating a project:
Setup Project – which is essentially the Project Charter or Statement.
Add Tasks – brings you directly into the Tasks Lists, where you can add tasks and plan the project.
Add Documents – links to the document library in your SharePoint site, a great place to store and collaborate on any project documents or deliverables.
2. Key Project Metrics
Just below the Promoted Links, you'll find a set of clickable metric tiles. These dashboards let you know how you are doing against the project schedule.
The tiles will help you track how many Late Tasks there are on the project, and to keep an eye on the current project finish date to ensure you adhere to the project timelines.
The final box shows you the last time the project site was updated, so you know that people are actually updating their work!
3. Project Status Icons
The third new feature is the introduction of Red-Yellow-Green status indicators on the project site homepage.
These icons give you a really good sense of where your project is at in terms of Time, Health, or Cost.  We've also added percent complete as well.
4. Tasks by Status Chart
Within the free template, you can view a summary of project tasks in the status chart. This visual summary of tasks makes it easy for everyone to stay up-to-date.
5. Project Management Guidance
As I mentioned above, we have found that most people managing projects are "Project Managers by Accident" (PMBAs). We've added high-level project management guidance to the wiki within the free template.
The guidance is based on the five-step project process in Collaborative Project Management Handbook:
Initiate the Project
Plan and Setup the Project
Work the Project
Track and Re-Plan the Project
Close the Project.
You can use the wiki as is, make edits as necessary, or remove it if you want to.
One additional enhancement to round this out – the Tasks List in the template is mapped to the project phases explained in the wiki.  This is pre-populated when you get the template and is based on the collaborative approach, giving you a head start on project planning.
Video: Managing a Project with the Template
In the below video, BrightWork CEO, Éamonn McGuinness explains how to initiate, plan, and manage your project with the free template.
Get Started Today!
The free SharePoint Project Management Template is ready-to-use and plugs straight into your SharePoint environment.*
The template is ideal for managing individual project sites.
A no-code solution used by over 40,000 organizations, the template will help you to:
Plan and manage a project schedule
Manage resources
Assign and track tasks
Create a document repository
Add workflows to automate project tasks
Use a Work Breakdown Structure
Manage goals, risks, and issues
Provide project status updates.
*The Free SharePoint Project Management Template from BrightWork runs on SharePoint On-Premises and is built for individual projects.
You can create as many sites as you wish with the template; however, the template does not support cross-project reporting.
If you need to manage across portfolios, take a closer look at the full BrightWork PPM Solution for SharePoint On-Premises here.