5 Easy Steps for Introducing Project Management to Your Team
According to research conducted by the Project Management Institute, organizations waste an average of $97 million for every $1 billion invested, due to poor project performance.
In a separate study, the PMI also found that only 58% of organizations understand the value of project management, leading to failure in over 50% of projects.
The absence of a consistent approach to project management has numerous impacts on organizations, including:
Projects delivered too late or over budget – if at all!
Failure to meet original goals or business objectives.
Poor stakeholder satisfaction.
Lack of change management processes, resulting in low user adoption.
Getting a project management methodology in place will help to get this situation under control.
You'll also need to consider how to get teams to use your new approach. After all, people will resist change for many reasons! If you don't make it easy for them to adopt the new approach, they will inevitably revert back to old habits.
Try these five tips – and a free SharePoint template –  to get users to follow your local project processes.
5 Ways to Get Users to Follow Your Local Project Methodology
1. Develop a project methodology
Tell me if this scenario is familiar. You have lots of projects underway. You have many project managers with different levels of training and experience. Each one is using their own approach to project management.
In addition, project plans are being managed in email and Excel with project documents are floating around in obscure file locations.
The longer this continues, the harder it will be to make real, positive changes to project outcomes.
The first step to getting projects under control is to develop your local project methodology.  Consider the projects you manage and the experience of the team managing those projects.  Then, figure the process that fits your situation.
At BrightWork, we often use the below project maturity spectrum with our customers.
As you can see, there is no one-size-fits-all approach to project management. It's all about the deliverables, the experience of the team, and ways of working in your organization.
Once you have identified how much process your project requires, try a three-step approach – Plan,  Act, Track Together –  for team collaboration:
Plan the project as a team.
Act as a team with agreed ways of working, a communication plan, and a project management tool. More on this in the next section!
Track results in one tool so everyone knows what is happening on the project at all times.
2. Provide tool support
Once you have a project methodology in place, find a tool that supports that process, and most importantly, allows you to start where you are ready.
Unfortunately, for many teams, email, spreadsheets, and phone-calls still remain their primary communication tools.
In their 2015 study, Planview found that:
Respondents were using 4.5 different tools to collaborate on projects.
33% reported that everyone was using different tools.
40% failed to find information at the right time.
39% struggled with poor visibility into tasks and workloads.
Bringing all project information into a single project site, configured to support the approach selected above, is the key to user adoption.
If your organization is using SharePoint, the free template from BrightWork is a great starting point. The template is a pre-planned project site to help you initiate, plan, track, and report on a project in SharePoint. The site is easy to use – regardless of SharePoint or project management experience.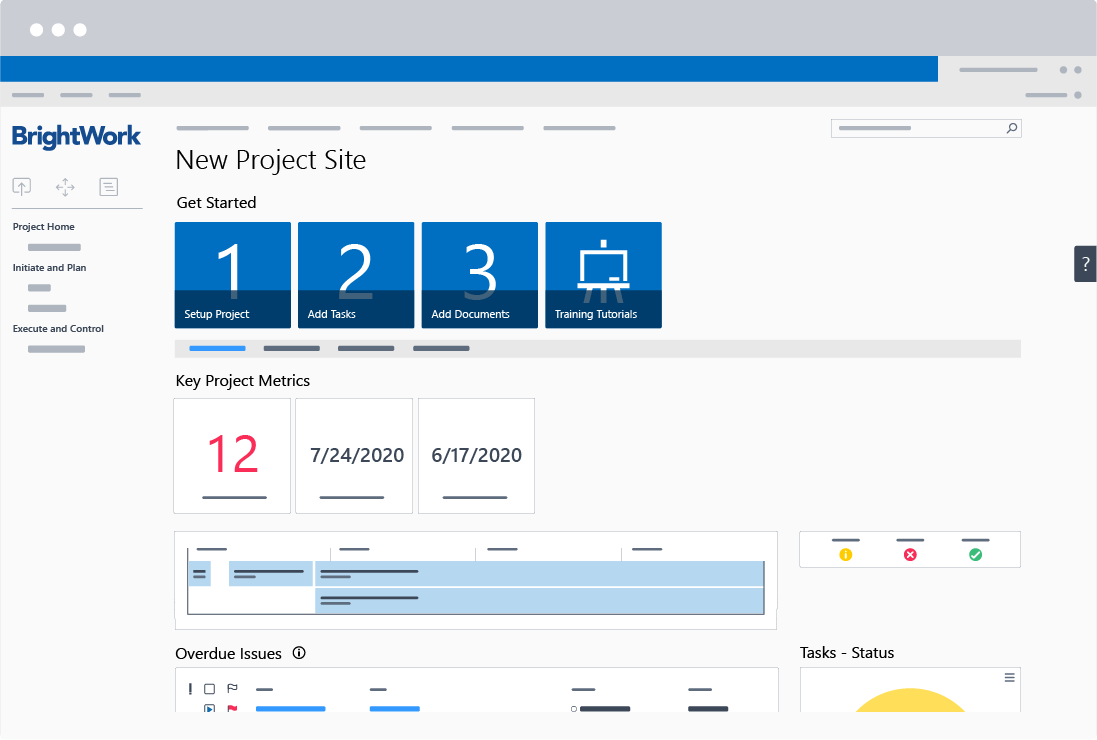 The Free SharePoint template includes:
Getting Started Tiles to help you plan and set up the project
Project Homepage for 'at-a-glance' project updates
Quick Launch menu
Tasks List
Project timeline and Gantt charts
Issues List
My Work and Work Reports
Project Status Reports
Document repository.
The free template provides the project management essentials you'll need to experience some quick wins and prove the case for project management.
3. Offer role-based training
Before you even start to roll out a new project methodology, communicate the coming changes with the team so they are ready.
If you are deploying a new tool, make sure people know how to use it effectively and efficiently.
Be sure to create training materials for each of the key roles (team member, project manager, senior manager) and deliver this training in a way that suits your team.
Informed and trained users will be more willing to adopt the new methodology you are trying to implement.
The free template is based on the following five-step project approach, which is explained in the project wiki:
Initiate the Project
Plan and Setup the Project
Work the Project
Track and Re- Plan the Project
Close the Project.
A free training video about the template is also available here.
4. Get feedback
After the methodology (and tool) have been in use for a while, get some feedback from end-users.
What do they like about it?  What don't they like?  What would they change?
A feedback session with the team will help you determine items to be adjusted. Some of the items will be adjusted immediately and others will be added to some sort of prioritized backlog.
5. Continuously improve
Your project management process doesn't have to be set in stone –  it should be continuously evolving. Hopefully, you have a vision of where you want to get to with your project management, so keep going towards that place where you are successfully and collaboratively managing projects.
Listen to the feedback, needs, and requirements of the users.
Building up your process bit-by-bit will enable you to achieve the level of project management you desire at a pace your team can handle.
Editor's Note: This post was originally published in August 2016 and has been updated for freshness, accuracy, and comprehensiveness.