Why SharePoint On-Premise Project Management Software is Still a Good Fit in 2023
SharePoint on-premise (Server versions of SharePoint 2016 and SharePoint 2019) are still a good fit for the project and portfolio management needs of many organizations.
Leveraging SharePoint for project management centralizes all information in one place for better collaboration, visibility, and reporting.
When combined with features such as its configurability, document management, workflows, and permissions, it can be transformed into a robust project management solution.
Key Features in SharePoint That Are Great for Project Management (SharePoint 2019 and 2016)
SharePoint 2016 and SharePoint 2019 are both powerful collaboration platforms that offer several features and capabilities that make them well-suited for project management.
Let's take look at why SharePoint is such a natural fit for managing projects and portfolios. Here are five key capabilities that I think present a pretty strong case for this tool.
1. Create a no-code project site in seconds
You don't need to be a web designer or coder to create a collaborative workspace for your project team.
Simply create a new subsite in your SharePoint site collection and fill out a simple form to provide info like the project name and the template you'd like to base the site on.
With the use of SharePoint Designer or other development tools, businesses can create custom workflows, forms, and applications that align with their project management processes.
2. Create New Site Templates
Within each website's Site Settings screen is the option to save your perfectly tweaked project site as a new template.
You can save and reuse the template as much as needed and share the site very easily with colleagues.
3. Leverage free and paid project management templates
When I say "templates", I'm not just referring to entire SharePoint sites that can be downloaded but also more granular, individual aspects such as list apps. One such example is the 'Issues List'.
A solution like BrightWork makes site creation even easier and quicker with pre-configured templates.
Building on the second point above – BrightWork Template Design Sync is an easy way to update an existing template and roll out these changes to multiple sites at once.
4. Easily Control Project Documents
A SharePoint document library is a special type of list used to store, manage, and find documents.
This deceptively simple feature not only improves team collaboration; it also centralizes key information in one place, eliminating silos and duplicate documents.
With a document library, you can
Add, edit, delete, and download project documents.
Manage access to files, folders, or a library.
Track the activity on a file, including the last modification.
Set up alerts to track changes to a document.
Create a custom view of a document library.
Share files or folders with others.
Use version control to restore overwritten data.
Co-edit files in real-time.
Metadata, filters, views, and search ensure your team and stakeholders can find the right information with just a few clicks.
5. Automate Tasks with Workflows
No SharePoint functionality list would be complete without the mention of workflows allowing project managers to streamline project-related tasks and approvals. SharePoint ships with five out-of-the-box workflows for document and task management.
Workflows can be customized to match the project's specific requirements, helping to automate routine activities and improve overall efficiency. 
There are several no-code solutions available for custom and complex workflows such as SharePoint Designer, Nintex, and Microsoft Power Automate.
6. Security and Permissions
SharePoint provides robust security features, including granular permission settings and access controls.
Project managers can define user roles and permissions to ensure that project information is shared with the right people while maintaining data confidentiality and integrity.
Get a Free SharePoint Project Management Template
Download your SharePoint template that is pre-designed to manage a project.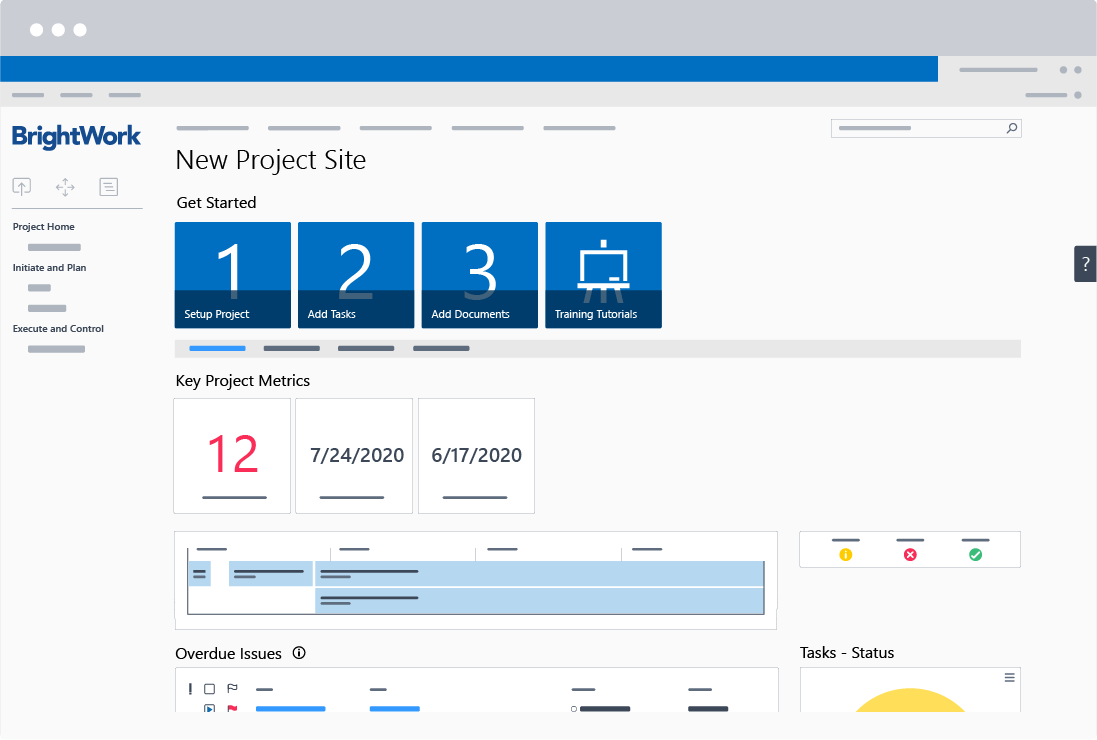 Elements of a Simple Project Management Process
The Project Management Institute (PMI) defines project management as 'the application of knowledge, skills, tools, and techniques to project activities to meet the project requirements.'
Projects are typically managed in phases. As teams work through each phase, they'll use processes and reporting to keep work on track.
Project Management Processes
Processes define ways of working, such as task management and risk management. Processes depend on the size and complexity of the project, the experience of the team, and particular project methodologies.
At BrightWork, we use the below spectrum as a starting point with our customers. As the project moves into execution, you can add or remove processes as needed.
Project Management Reporting
In project management, we need lots of reporting to know where we are and where we are not! Project reports should be easy to create and share, and update in real-time.
Different people on the team will need to see different information to contribute successfully:
Stakeholders need reports to track progress and deal with risks across projects and portfolios in a timely manner.
The team relies on reports to find and do work, raise issues, and stay up-to-date with the project.
Project managers use reports to track tasks, risks, budget, and timelines on a daily, weekly, and monthly basis.
 It's also important to facilitate cross-project and portfolio reporting, and visual elements such as Gantt charts.
Project Document Management
Project documentation should be clear, up-to-date, and easily accessible at any time.
Project documents help to:
Create a single, accurate record of project work.
Simplify reporting with all information in one place.
Prevent misunderstandings with clear descriptions of individual roles and responsibilities.
Improve collaboration within the team.
Managing project documents requires capabilities such as real-time co-editing, secure sharing, and version control.
Project Collaboration
It is incredibly important to bring all the people involved in the project together so that they are connected to each other, as well as the project management processes and reports.
With the rise of remote and hybrid teams, teams need an easy way to communicate, collaborate, and share information.
Project Management Evolution
As teams become more confident with projects, they'll likely want to take on bigger or multiple projects. Processes will change as maturity levels grow.
Using this very brief summary of project management, we'll move onto using SharePoint for project management.
Get a Free SharePoint Project Management Template
Download your SharePoint template that is pre-designed to manage a project.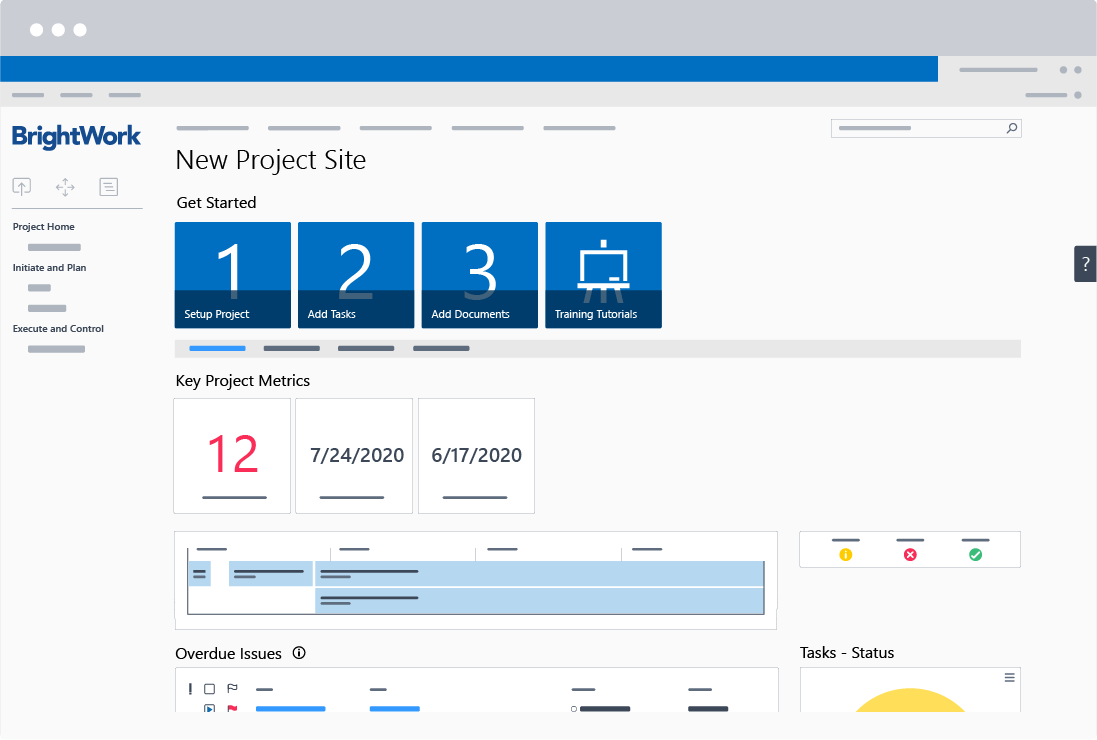 Manage projects with Microsoft 365 and SharePoint Online
Watch a demo of BrightWork 365 project and portfolio management templates for Microsoft 365, Power Platform, and Teams.