6 Capabilities That Make SharePoint the Best Tool for Project Management
Microsoft SharePoint On-Premises is an incredible tool for document management and information sharing. But, it is also a practical and popular tool for project management.
What makes SharePoint so suitable for project management? Let's take a look at 6 key capabilities/benefits for managing projects on SharePoint.
6 Capabilities That Make SharePoint the Best Tool for Project Management
1.  It's a collaboration platform
The most common way to manage projects is probably a combination of spreadsheets and email.
One of the biggest challenges when it comes to managing that way is it's hard to get the project team on the same page.
Without a standard tool to manage projects, team members will begin to create their own processes for tracking and managing work – even within the same project.
With SharePoint, you can bring all of those disparate information sources together in one centralized workspace.
2.  Project documents are kept in one place
SharePoint may be best known for its document management capabilities.
When it comes to the success of a project, document/deliverable management can be crucial.
Using an ad hoc approach of sending around email attachments will introduce challenges almost immediately.
Who made these changes? Where is the document stored? Is this the most up-to-date version of the document?
These are just some of the questions the team will be asking on a daily basis.
By integrating a SharePoint document library to your SharePoint project site, with its check-in/check-out function, version control, and central storage location, you can easily track project deliverables and their changes over time.
3.  SharePoint permissions create a highly secure environment
SharePoint offers a range of security settings and permissions levels to help you control who can access, read, or edit project data.
If your organization is already using SharePoint for some business processes, it makes sense to also use the platform to manage your projects.
By using SharePoint as your project management platform, you are leveraging the existing infrastructure (keeping IT happy!) and also managing who has access to sensitive data.
4.  No-code configuration
This almost goes without saying, but one of the best parts of SharePoint is its configurability.
With SharePoint, you have the ability to create views, customize lists and alerts, sync with Microsoft Project, automate processes with workflows, and more.
It's important to know that most of these are no-code configurations right out of the box, helping you create an environment where you can manage a project exactly the way you want to.
5.  SharePoint is accessible anywhere
No matter where your team members are located, they can log in to access the project site SharePoint and understand the progress of the project, keep track of their work, or provide an update to the team.
6.  You can save your project site as a SharePoint site template
You'll put a lot of time into the creation and development of a SharePoint project management site.
In SharePoint, you can save your project site as a template, so that it is reusable on future projects.
So on your next project, you'll have a ready-made project site all ready to go – just the way you want it.
This approach of using templates in SharePoint will help your organization standardize its project management processes on one platform (SharePoint).
Next steps
All of these capabilities can be leveraged to create an environment that mimics your own project management processes and to provides a centralized project workspace for teams.
A quick way to get started with project management on SharePoint is the free template from BrightWork.*
The free template plugs into your existing SharePoint On-Premises infrastructure – no coding required.
The site already includes the project management essentials to help you plan, track, and re-plan the project, including:
Getting started Tiles
Project Homepage with 'at-a-glance' information
Quick Launch
Wiki (Collaborative Project Management Process)
Tasks list (mapped to the Wiki)
Project Reports and Metric Tiles
Document repository.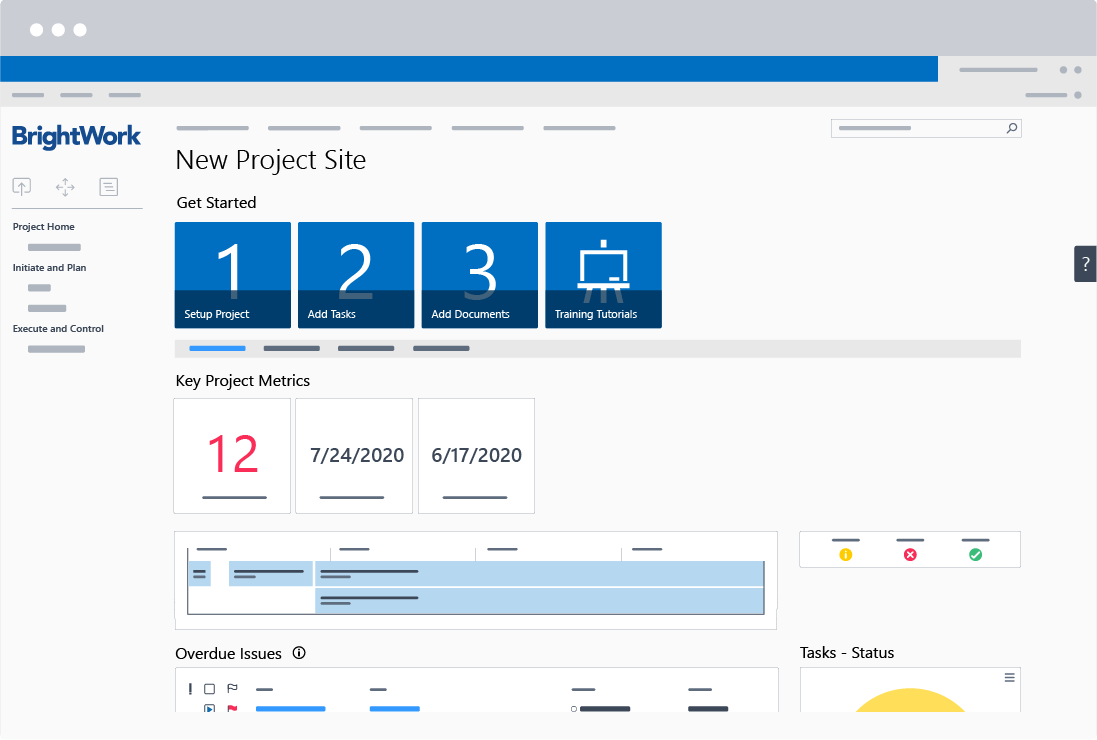 *The Free Template runs on SharePoint On-Premises and is built for individual project sites.
You can create as many sites as you wish with the template; however, the template does not support cross-project reporting.
If you need to manage across portfolios in one tool, the full BrightWork PPM Solution for SharePoint On-Premises has everything you need. Learn more about BrightWork here.