Like most project managers, you're likely running a number of projects at once. You probably also start new projects regularly, making standardized templates essential!
You need a quick, easy, and repeatable way to plan, manage, and report on all projects. You need a template.
If you are using SharePoint On-Premises for project management, it's easy to use pre-configured templates to save time and ensure consistency across your teams.
In this article, you'll see how to get a quick start with the free SharePoint Template from BrightWork, which draws on over 20 years of working with customers to deliver the most intuitive and simplest project management solution for SharePoint.
3 Reasons to Use a SharePoint Template for Your Projects
1. Fast starting point
SharePoint has a number of elements suited to effective project management – lists, web parts, sites, and site collections.
To create a template, simply configure these elements and save the site to your SharePoint library for reuse.
Depending on your SharePoint (and project management) expertise, this process can take a little time.
Luckily for you, BrightWork has gone ahead and done all the heavy lifting with a free SharePoint project management template.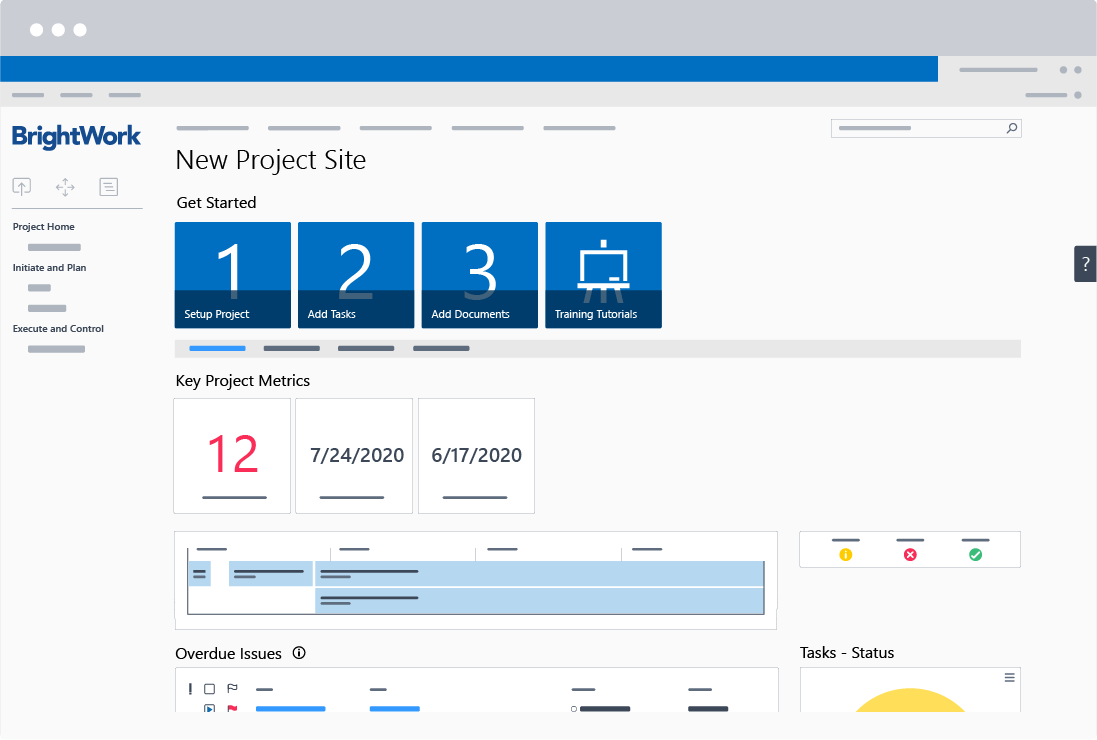 The tiles, Quick Launch, and project homepage are all set up in an intuitive way, mirroring the way you manage a project.
All you need to do is download and install the template, and deploy a pre-configured project site – all in less than five minutes.
2. Organize your project in one place
The free project management template guides you through all the steps required to get your project off the ground.
Start with the project statement before adding tasks and creating a document library – all available in the 'Getting Started' tiles.
The free template plugs into your existing SharePoint On-Premises infrastructure – no coding required.
The site already includes the project management essentials to help you plan, track, and re-plan the project, including:
Getting started Tiles
Project Homepage with 'at-a-glance' information
Quick Launch
Wiki (Collaborative Project Management Process)
Tasks list (mapped to the Wiki)
Project Reports and Metric Tiles
Document repository.
3. Low learning curve
Not only does a template save you a significant amount of setup, but you will also feel better as a project manager on the way towards delivering a successful project. Remember, using a template means you are using a tool/approach that has already gone through a project.
A ready-to-use project site reduces your learning curve, allowing you to focus more on the project itself.
Our template is closely aligned with the Project Lite template in the BrightWork solution and is based on our proven, five-step approach to project management:
Initiate the Project
Plan and Setup the Project
Work the Project
Track and Re- Plan the Project
Close the Project.
You will be confident you're using the right approach with this best-practice project management template, so you can manage your project extremely well.
Go Further: BrightWork PPM Templates for SharePoint
The Free Template is an easy starting point for teams who are new to project management or light projects.
If you need to report across projects or leverage features like Agile Boards, Project Request Management, or automated email reporting, the full BrightWork solution has everything you need!
Editor's Note: This post was originally published in October 2020 and has been updated for freshness, accuracy, and comprehensiveness.