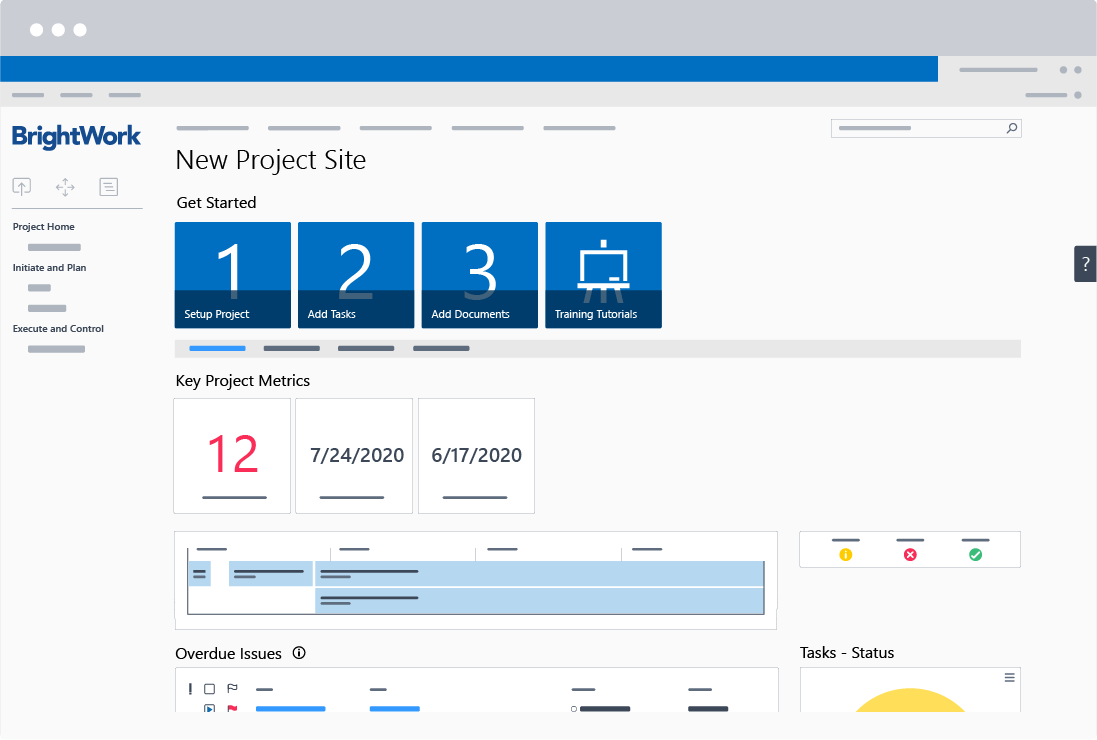 How to Start Managing Projects on SharePoint in Under 5 Minutes
At BrightWork, we often hear about common project management challenges such as the lack of an agreed approach to projects or the use of Excel to track work.
We know some teams need to manage projects from time to time, like delivering a new website but have no formal project management training.
If your organization uses SharePoint, there is a quick way to get projects under control – the free SharePoint Project Management Template from BrightWork.*
Let's take a look at how you can start managing projects on SharePoint in under five minutes – for free.
How to Start Managing Projects on SharePoint in Under 5 Minutes
1. The SharePoint Project Management Template
First things first – a little about the Free SharePoint Project Management Template. The Free Template is a simple and intuitive way for teams to manage individual projects on SharePoint.
Modeled on the Project Lite template in the BrightWork solution, the template is a pre-configured project site with reports, and metric tiles.
The site has everything you need to plan, track, and execute projects successfully on SharePoint –  straight out-of-the-box.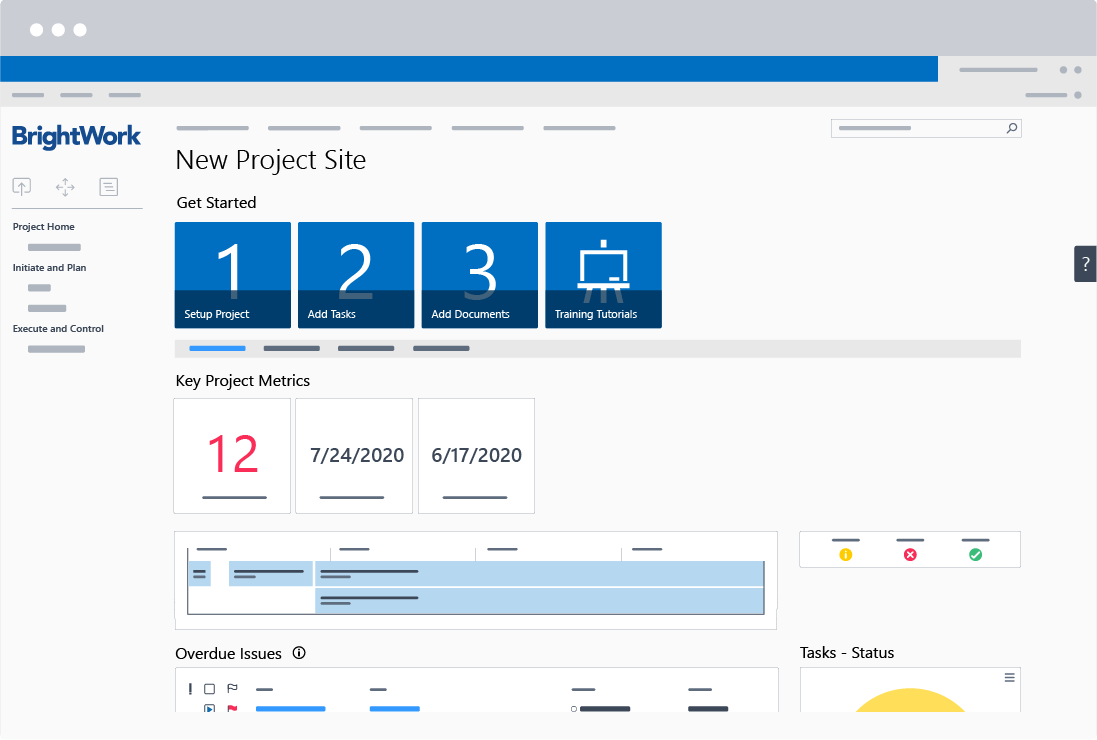 Using the template means you don't need to waste any time building a project site in SharePoint or trying to find someone to do it for you.
All you need to do is download and install the template, and deploy a pre-configured project site – all in less than five minutes.
2. Leverage Your SharePoint Infrastructure
Many organizations limit the use of third-party applications or downloads.  Depending on the IT guidelines within your organization, you may find your choices of project management software are quite limited.
If IT has to review requests or install software for you, you could be waiting a long time just to open the software on your device – never mind using it!
As the free Project Management Template is based on SharePoint, it will plug straight into existing, approved IT infrastructure. No coding is required to configure the template and your IT team does not need to install any code on the servers.
In addition to saving time and avoiding IT headaches, the project site is very easy to use. If you and your team are already familiar with SharePoint, you'll quickly master elements such as the Quick Launch, Task Lists, and Project Reports.
For those not familiar with SharePoint, the project site is visual with a logical layout and clear navigation. It won't take too long for the team to become comfortable with using SharePoint for project management.
3. The Right Start
When I say you can start managing a project on SharePoint in under 5 minutes with the Free Template, I'm not just talking about easy installation.  The template includes project management processes and SharePoint experience to make sure you get the right start.
Our template is based on best practices and closely aligned with the Project Lite template in the BrightWork solution.
It draws on the experience and feedback of our 20+ years working with customers to deliver the most intuitive and simplest project management solution for SharePoint.
There are two key elements worth highlighting: the 'Getting Started' tiles and the 'Quick Launch'.
The 'Getting Started' tiles on the project homepage will help you to organize the project, including tasks and documents, in a few minutes.
Using the walkthrough, you can:
Plan the project with key information such as the project name and description, project manager, status, and due date.
Add Tasks to a SharePoint list and create a schedule.
Add Documents to the document library.
This short video explains these steps in more detail.
With these key elements in place, your team can start working on their tasks with a clearer understanding of their responsibilities and overall goals.
The Quick Launch – a menu with links located on the left-hand side of your site – provides further structure to your project. These links will help you to plan, execute, and track work.
If your organization does not have an agreed approach to project management – don't worry! The Template includes a project wiki, which explains a five-step approach to managing your projects.
The guidance is based on the framework in our Collaborative Project Management Handbook. You can use it as is, make edits as necessary, or remove it if you want to.
4. Free Means Free
No doubt, you will have signed up for numerous free trials for various apps and tools in the past only to find you didn't have time to explore the tool fully.
It's frustrating, especially if you are trying to evaluate tools carefully before seeking a budget. After all, you need to be sure your choice is right!
The Free SharePoint Project Management Template is free, forever. You can manage as many individual project sites as you wish for as long as you need to.
This means you and your team can use the Template without worrying about losing data or struggling with limited functionality.
Start Managing Projects on SharePoint Today
Getting started with project management on SharePoint may seem daunting. With the right tools and guidance, it is achievable and will put you on a path to real project management success.
The free Project Management Template for SharePoint is a risk-free starting point and it works.
The site already includes the project management essentials to help you plan, track, and re-plan the project, including:
Getting started tiles.
A project homepage with 'at-a-glance' information.
Task Management.
A document repository.
Metric tiles.
Project status reports.
*The Free SharePoint Project Management Template from BrightWork runs on SharePoint On-Premises and is built for individual projects.
You can create as many sites as you wish with the template; however, the template does not support cross-project reporting.
If you need to manage across portfolios, take a closer look at the full BrightWork PPM Solution for SharePoint On-Premises here.